F. Thomas D. Kaplan, MD

Private Practice,
Indiana Hand Center


(case submitted August 11, 2008)
The patient is a 79 yr old who had a distal radius fracture which was treated with an open reduction and internal fixation with a Synthes volar plate on 5/13/2006. There were no problems intraoperatively. However, the patient had persistent wrist pain post-operatively that seemed more than normal. The post-operative xrays are shown below.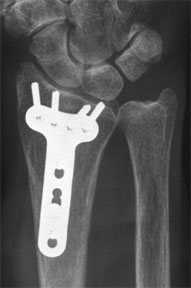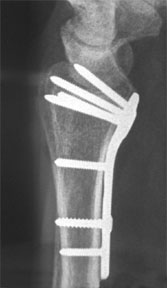 PA and lateral views.
The pain was persistent and disabling, but did not have a clear etiology.
(1) What do you think of the reduction?
(2) What do you think of the hardware placement (plate placement, screw placement, screw length)?